Introducing SIRAK
—
Thursday, October 19, 2023
— —
For Adam Sirak, a garden stands as one of the most profound manifestations of a life richly lived. After a decade immersed in the world of top Italian fashion brands in New York, Adam followed a new path, relocating to Los Angeles to embrace his true passions: gardens, design, and horticulture. Establishing SIRAK in 2013, his collection of planters reflects the deep reverence that ancient civilizations held for nature, acknowledging its profound influence on artistic creation.

We conversed with Adam to learn more about his roots and the passions that led him to where he is today.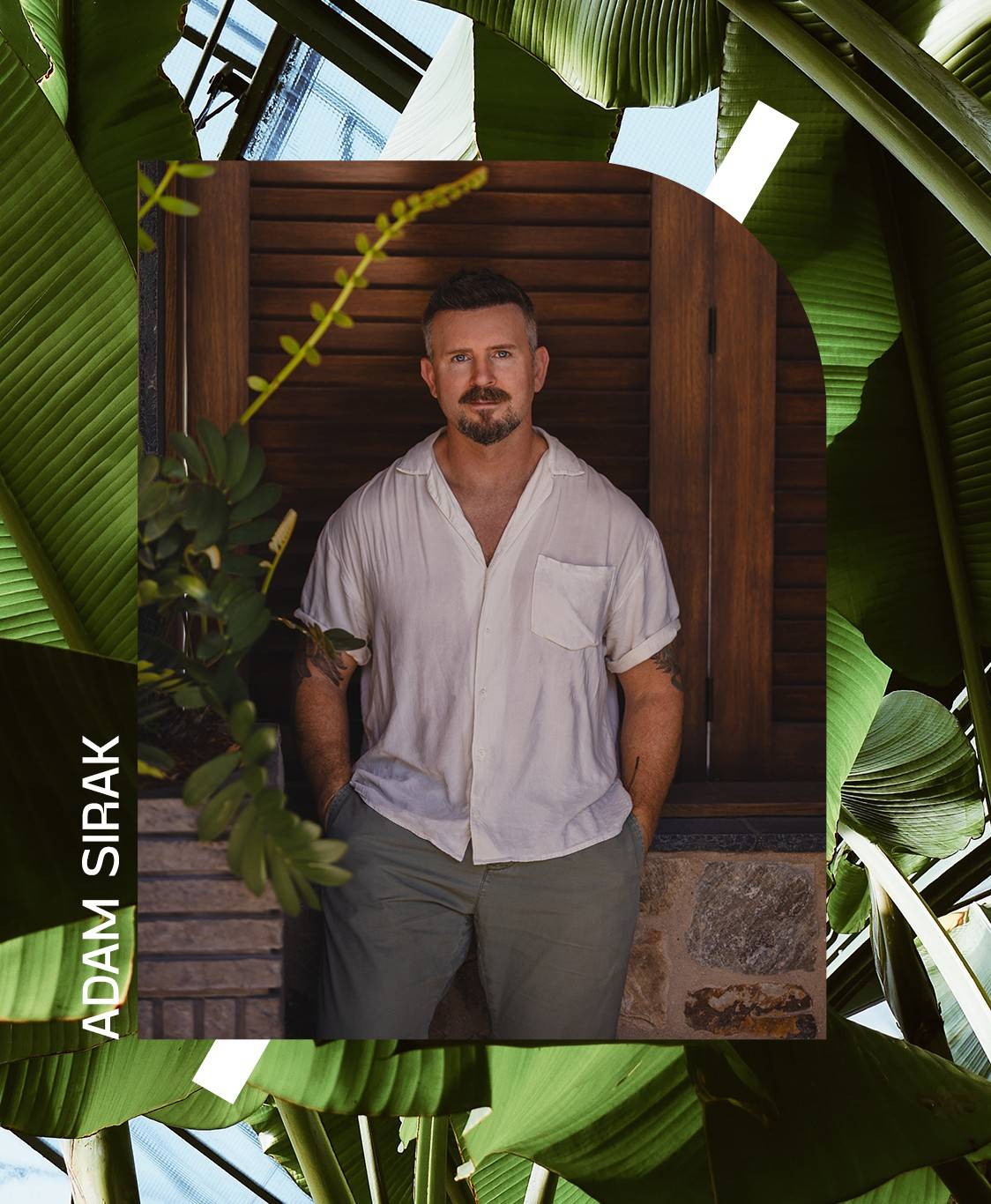 Adam – we understand you inherited your green thumb from your parents, both of whom are landscape designers in South Florida. What is a favorite garden memory from your childhood that still influences your design aesthetic?
It was always rare palms and rare orchids at our house. Once when I was around 12 my parents announced they had acquired a group of Copernicia baileyana, (a palm native to Cuba). I had no idea what they were, but I remember it being a very big deal. Even though I couldn't articulate it at the time I was learning that a garden is an expression of life well lived and that plants are not just inanimate objects but living things to be collected and cherished.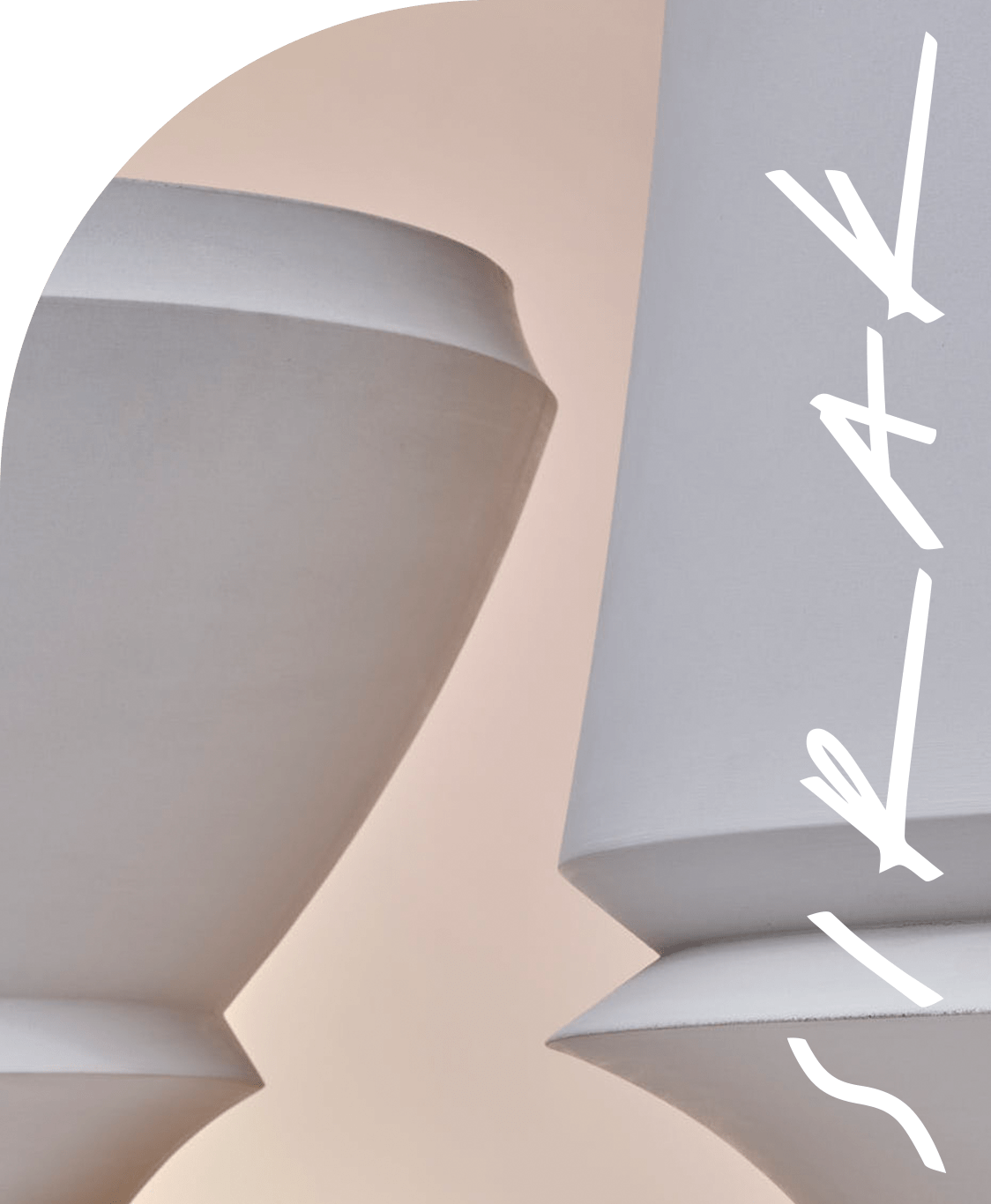 You once had a career in New York in the fashion industry before your foray into landscapes, which then ultimately led to your collection of planters. How do your experiences in fashion still show up in the spaces and vessels you create today?
Fashion is really good at crafting spaces and images that create emotion and desire. You walk into one of those stores and instantly you feel like you want to be a part of that world. Everyone wants to be the elevated and aspiration version of themselves and so my job is to make gardens that have this same effect.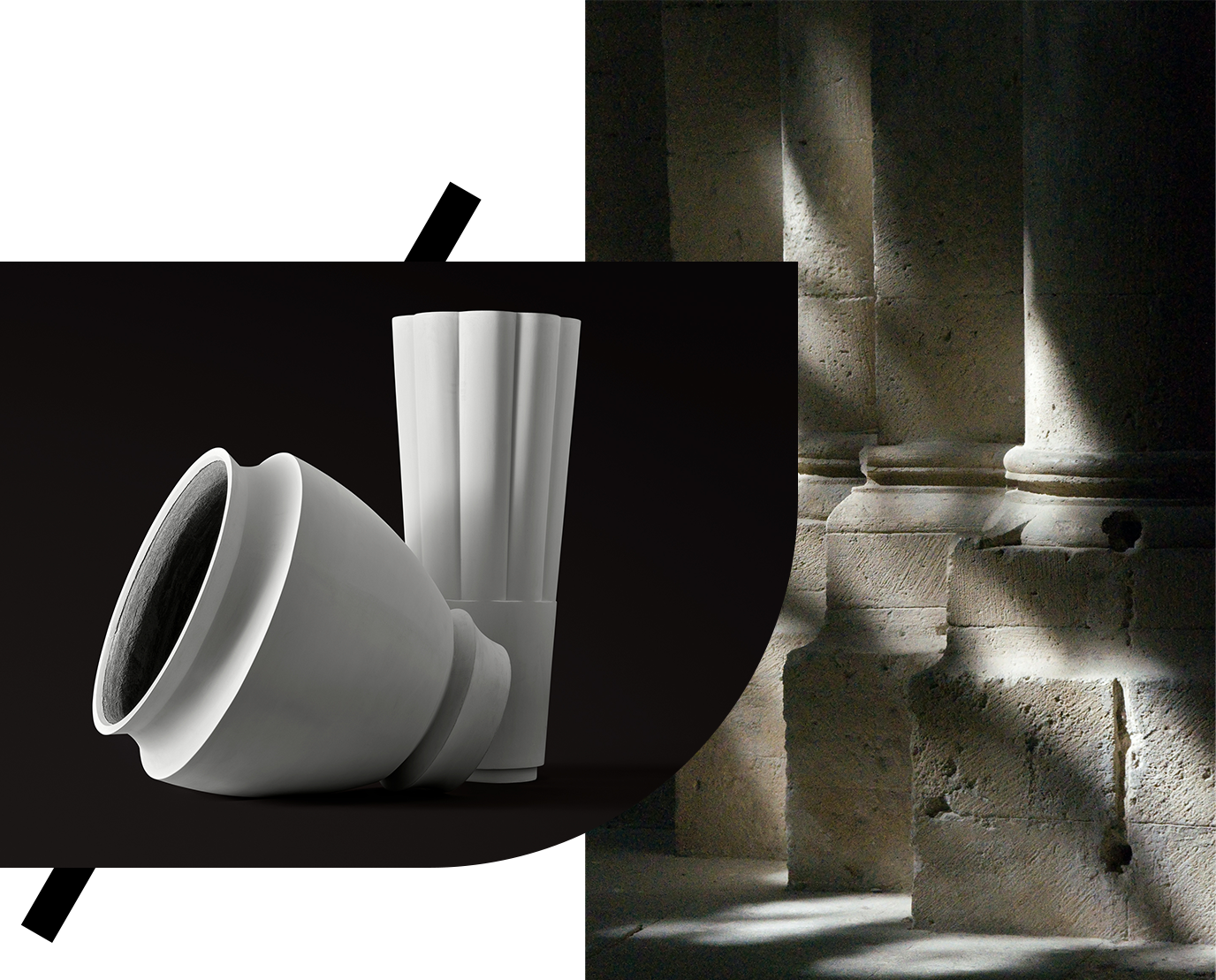 The names of your planters take inspiration from Classical mythology and the ancient civilizations that once thrived in the Mediterranean. Tell us why you chose these references to antiquity for a modern-day collection.
How does that saying go, "If you want to know the future, look to the past"? These stories and the cultural achievements they represent are foundational to everything since. In a way, you could also say what could be more modern than an idea that is eternal.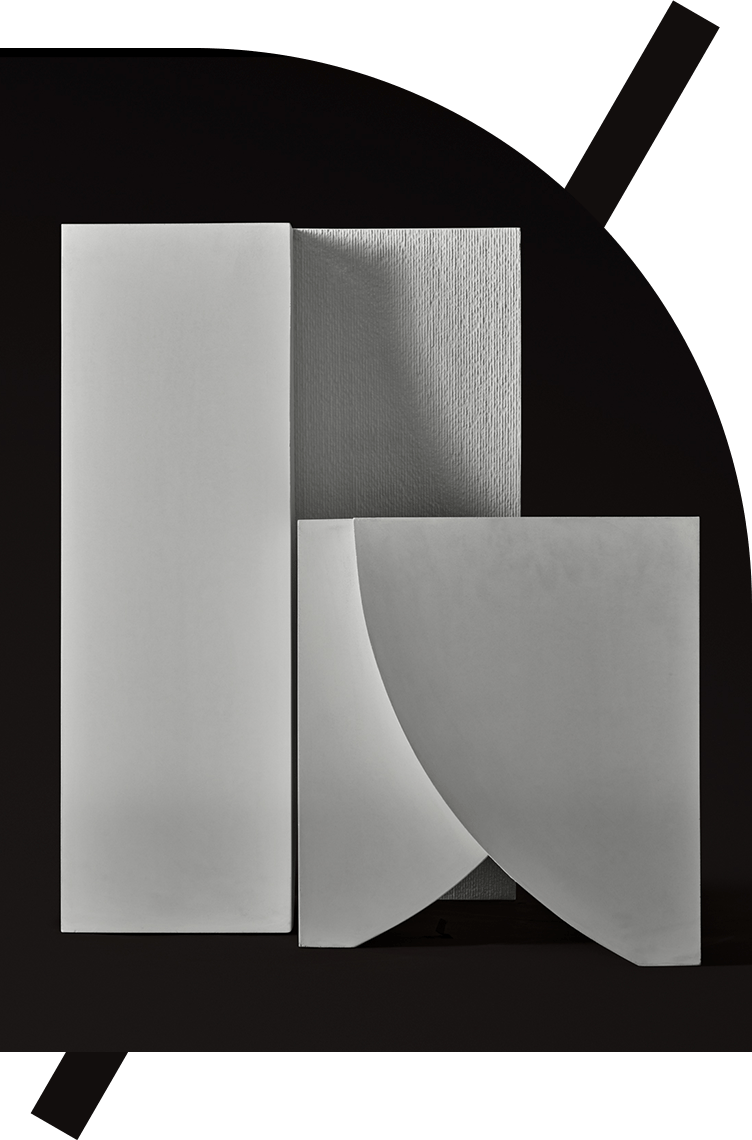 Do you have a favorite design in your collection, and why?
Oh, that's a tough one. I love the new Icarus group. It's more poetic with its curves which reference his wings and fateful flight to the Sun. I also love how it changes shape as you move around it, and it can be puzzled into these very interesting combinations.
"I love the new Icarus group. It's more poetic with its curves which reference his wings and fateful flight to the Sun."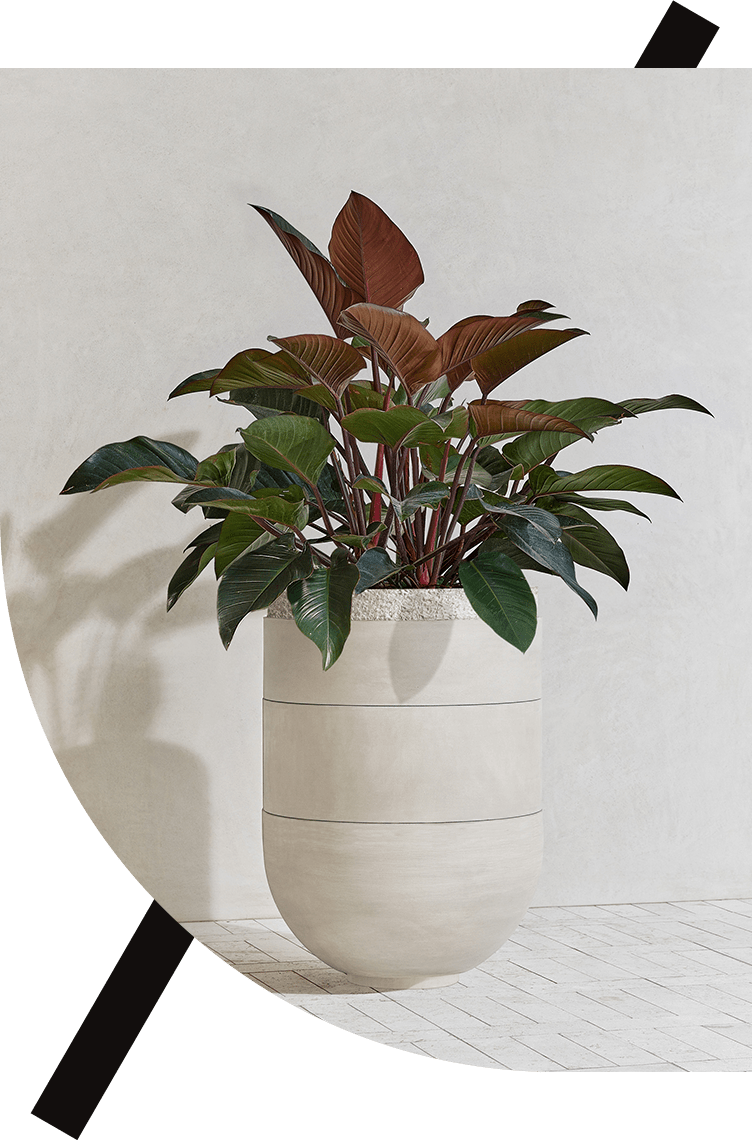 Outside of Classical antiquity, are there are any cultures (ancient or current), that also inspire you and may at some point show up in your collection?
Later this year I'm traveling through Andalusia in Southern Spain to study the palace gardens of Islam and start sketching the next series.  Although these structures were built much later than the Classical period I find the continuum fascinating, and looking closely you can see the ideas carried over from the preceding periods. That said, I have never been to Asia, and I know that when I finally make it, I won't be able to contain myself.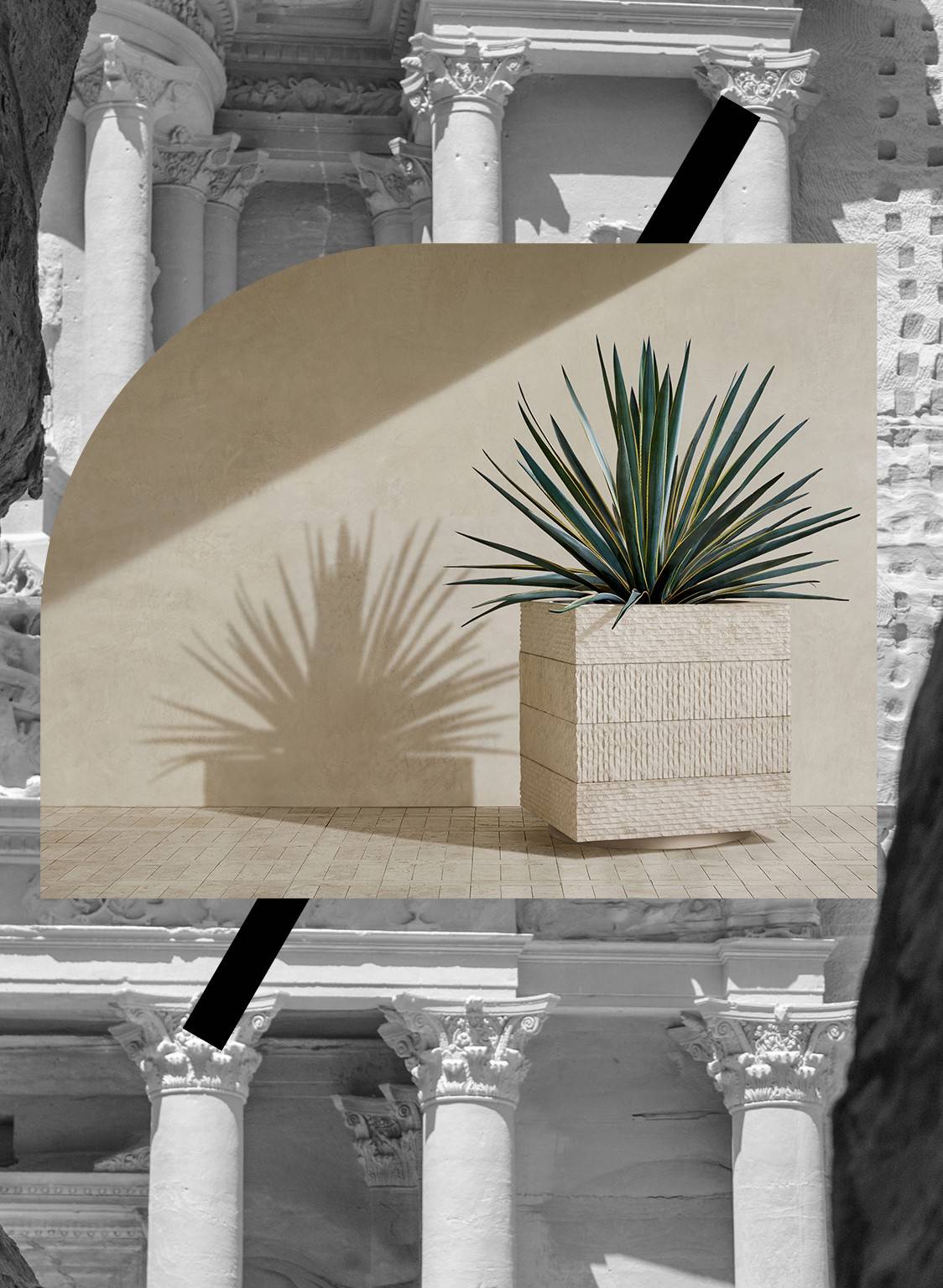 The pieces in your collection are made of cast concrete – why did you choose this material as your medium? Are there any other materials you are exploring for the future?
Many people might not know this, but various forms of concrete have been in use since the 6th century BCE. The Egyptians produced and used it extensively and then the Romans perfected it using volcanic ash and seawater. I like knowing that I'm working with the same material and that it creates a direct line back to the cultures I'm referencing. Just like ancient structures still standing today these planters will, with care, last just as long.
I do have a fantasy of casting them in transparent resin so we can see the root morphology of the plants but that would only be for serious plant nerds!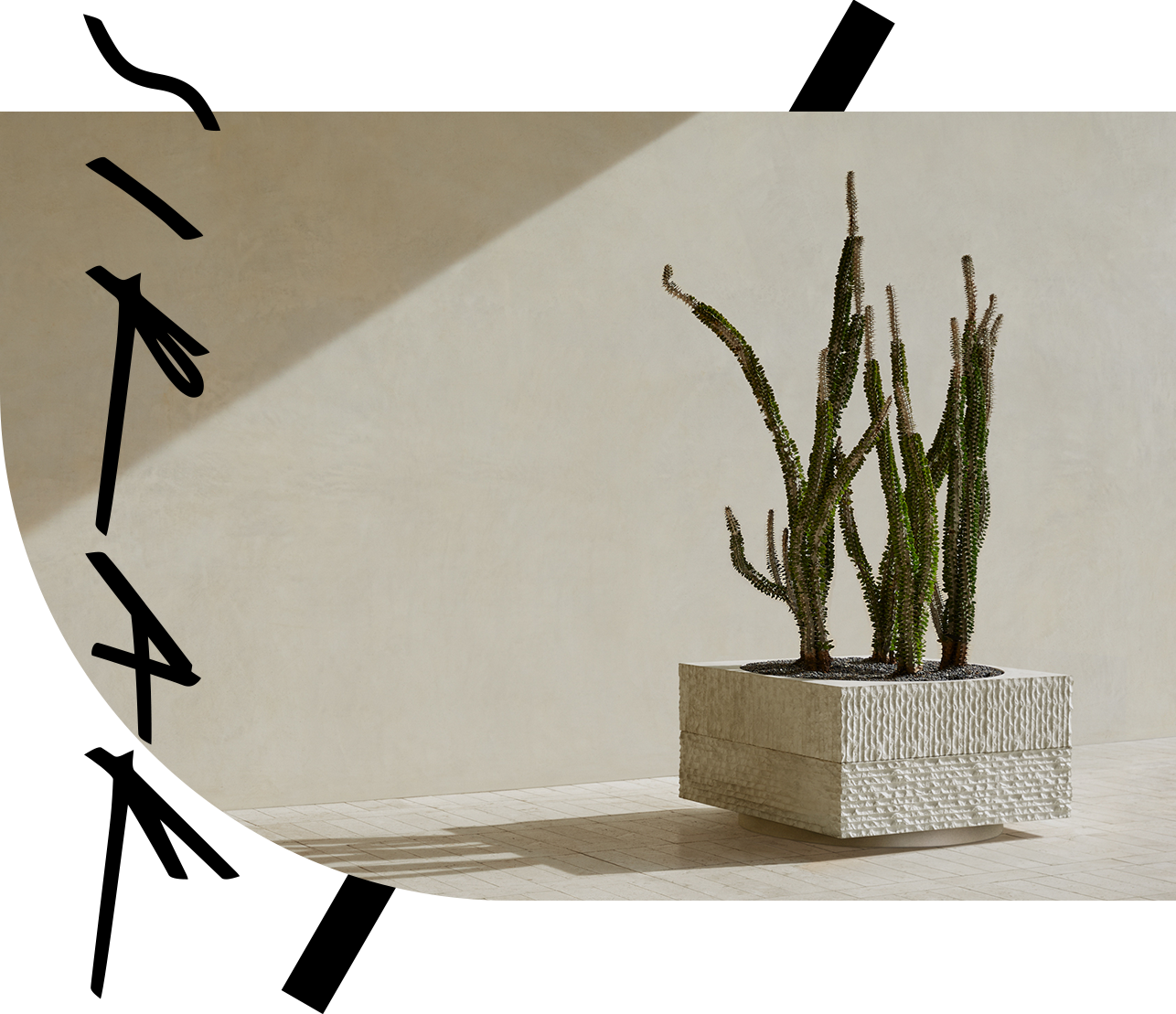 Your planters seek to "become modern-day artifacts elevating the plant to covetable status and displaying them as a collectible object". Considering your reverence for the natural world, do you envision designing and adding other pieces to your collection that will complement your planters?
I have so many ideas but right now I'm working through preliminary sketches for a series of fountains. They're sculptural objects that can be changed and customized like the planters which emphasize the role of fresh water necessary for migratory birds.
First concert 
Moby. It was the early days of Techno. He signed his drumstick for me after the show. 
Favorite fashion designer (past or present)
I'll have to go with Jean Paul Gaultier. He was really more about telling stories of cultures than presenting a seasonal wardrobe. It was bigger than just clothes. 
Most cherished piece of art
When I was 14 my Dad sent me a postcard that read in simple black typeface "If There Is An Experience In Front Of You, Have It." I have it framed on a wall. It made a deep impression on me. 
Favorite hobby (other than gardening)
My partner taught me how to sew during the pandemic and I've been making my own clothes. I've actually gotten pretty good and it's so fun to tuck into a fabric store and see what I can come up with. 
Perfect Autumn meal
Sautéed Cod with Potatoes in Chorizo-Mussel Broth (recipe: Eric Ripert, Le Bernardin). Made leisurely at home for friends over perfectly dry Martinis.