2019 SF Showhouse
—
Tuesday, June 18, 2019
— —
Every year since 1977, a handful of ridiculously talented humans are selected to design a room in the San Francisco Decorator Showcase. We sat down with three of our favorite designers participating in this year's showhouse, and picked their brains about their process, the sources of their inspiration, and which supplier's products are #killingit this season.
Kathleen Navarra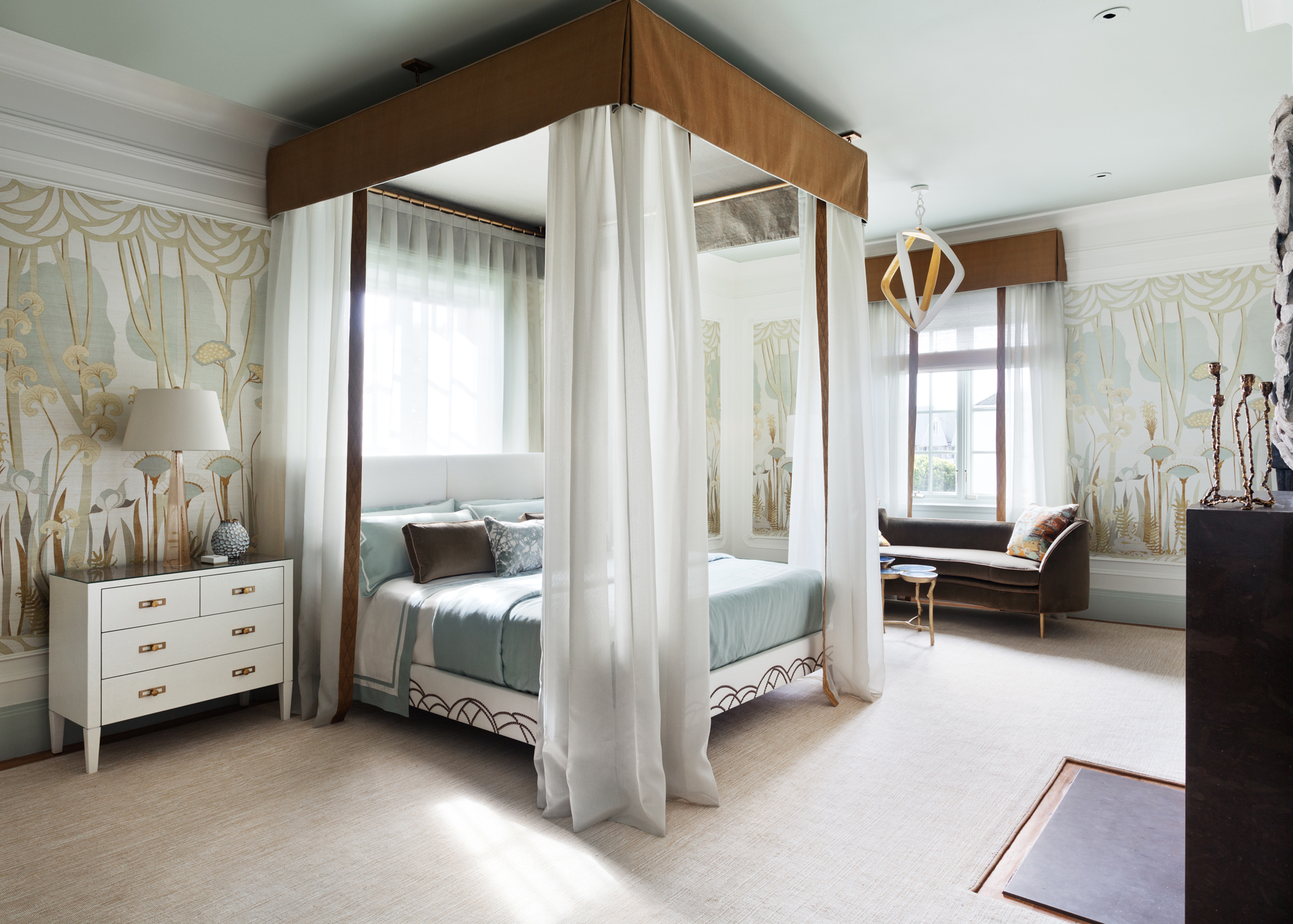 Your master bedroom seemed to be the one space everyone had a hard time leaving. Who did you envision living in this serene room?
I imagined a European couple with extremely busy lives filled with family, travel,  and philanthropy. I wanted the space to feel modern, warm and to be a welcoming respite to the outside world.
You worked closely with Ironies on several pieces in the space (that custom bed...!).  Tell us about your relationship with Ironies and your process of working with them creatively to bring your vision to life.
I have known the Ironies clan forever through many years of working together which led to an outside friendship. I think our mutual creative respect for one another helped bring our room to life. Their aesthetic and my vision for the room was the perfect marriage. We showed them our inspirations and they gave us suggestions. We were able to see pieces in process and work through details together. We originally chose many of their pieces for the organic quality they possess and their interesting use of materials, ie the custom mirror with concrete sea anemones and the Droplet Tables. Their skill and attention to detail helped create a modern upholstered bed with again, an organic nailhead design at the base of the footboard.  Even the chairs/ottoman we chose - the Marcel Lounge Chair, the Priam chair and the Coterie ottoman - with their curvilinear lines sat perfectly in this serene space.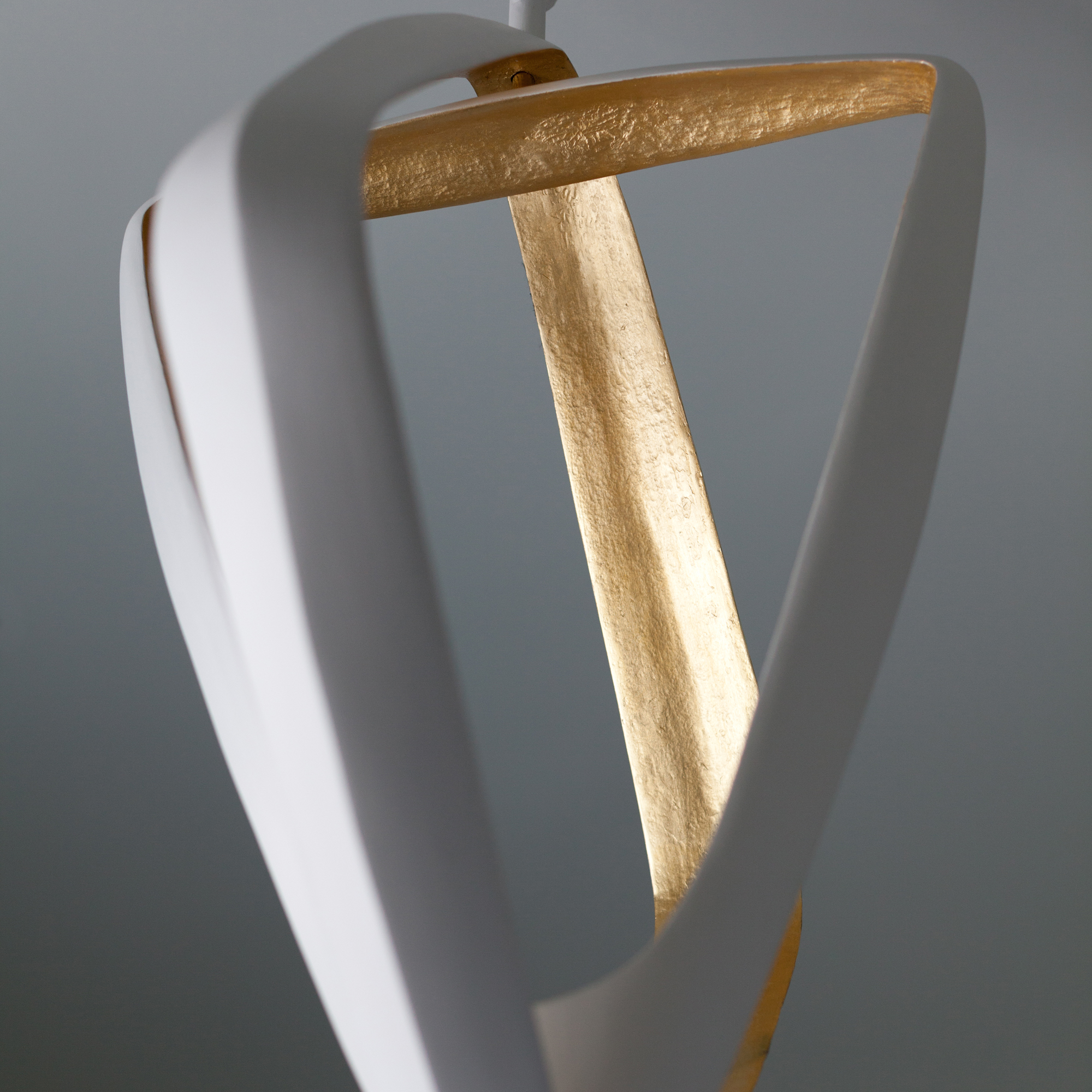 The Porta Romana pendants you selected add a beautiful soft glow to the room. How do you generally approach lighting in a bedroom?
I always prefer a soft glow in a bedroom for overall lighting, but different levels of light is most important, meaning overhead/general, ambient and task lighting.  I usually start with a sculptural piece, as the custom Porta Romana pendants, as the main/first light you turn. Then supplemental recessed or perimeter lighting for an ambient glow.  For lower level lighting I prefer GOOD lamp lighting. It is the light we live by and should function for the task at hand, whether it is reading or simply lower level general light.
Okay – fun question: you have two weeks and an unlimited budget to travel anywhere in the world. Where do you go and who do you bring with you?
Africa - I would go on Safari with my husband and mother.  I have this desire to see nature at its best (or worst), the unencumbered wildlife in its vast epic beauty.  I imagine it to be life-changing.
Kathleen Navarra — Master Bedroom
I wanted the space to feel modern, warm and to be a welcoming respite to the outside world.
Lindsay Anyon Brier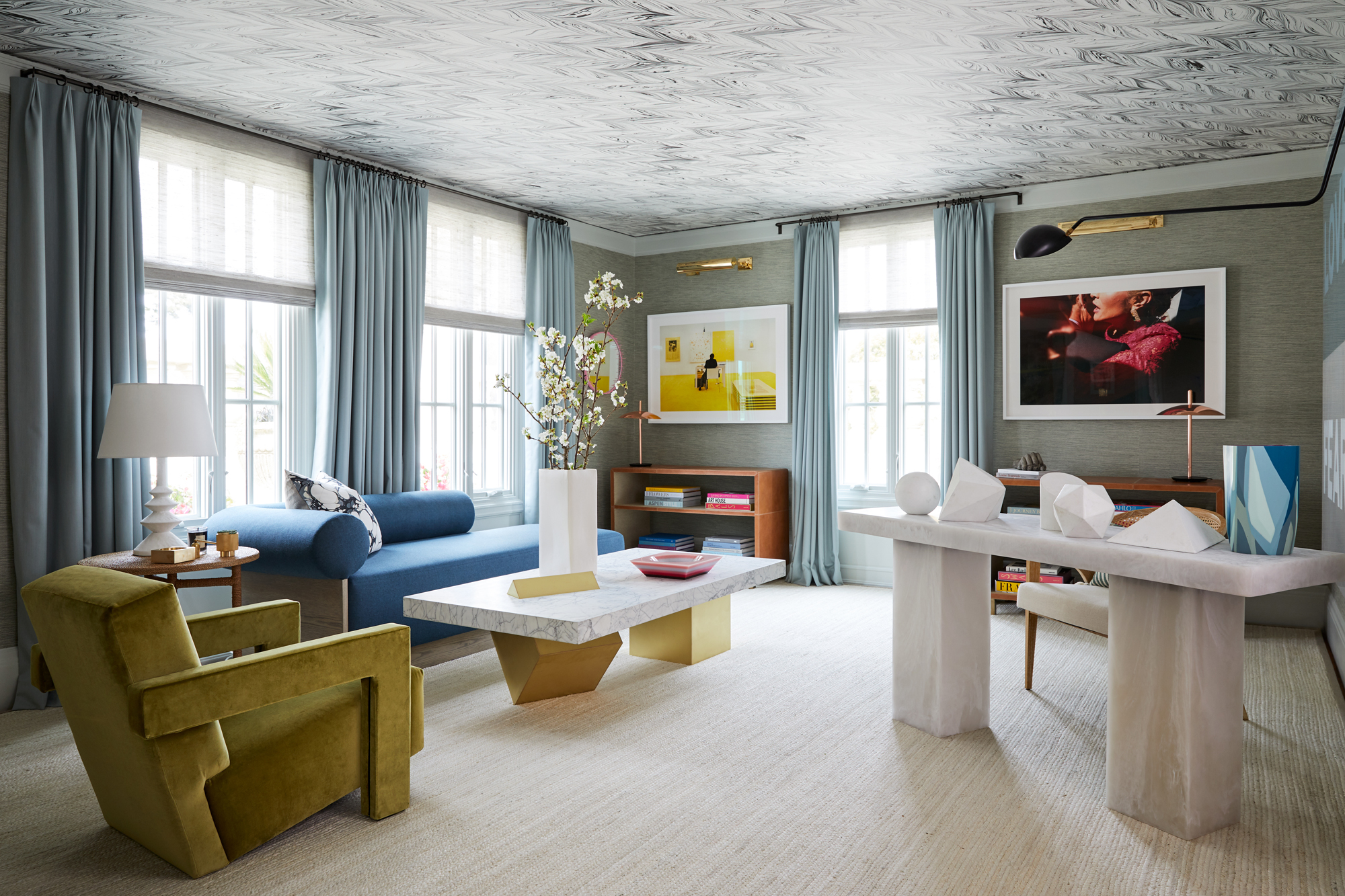 You created an Artist in Residence Retreat inspired by your muse, the late style icon Marella Agnelli.  What type of artist did you envision living in this space?
Yes, the room was greatly inspired by Marella Agnelli. We envisioned the owner of the home to be a great patron of the arts, as was Marella. We imagined emerging painters, photographers, sculptors, and digital artists taking up temporary residence in this space. The room would provide room for them to create while taking respite from the city.
We were honored to see our Gregorius Pineo linen wallcovering used on the walls as a backdrop to the art.  How does a textured wall versus a flat painted wall change the experience with art?
The soft blue-green added a bit of color but was neutral enough that it did not compete with the art. The wall covering really anchored the space, it envelopes the room without weighing it down and gave it a strong sense of space. We were told by many visitors that while it was dynamic and fun, it also evoked a sense of calm.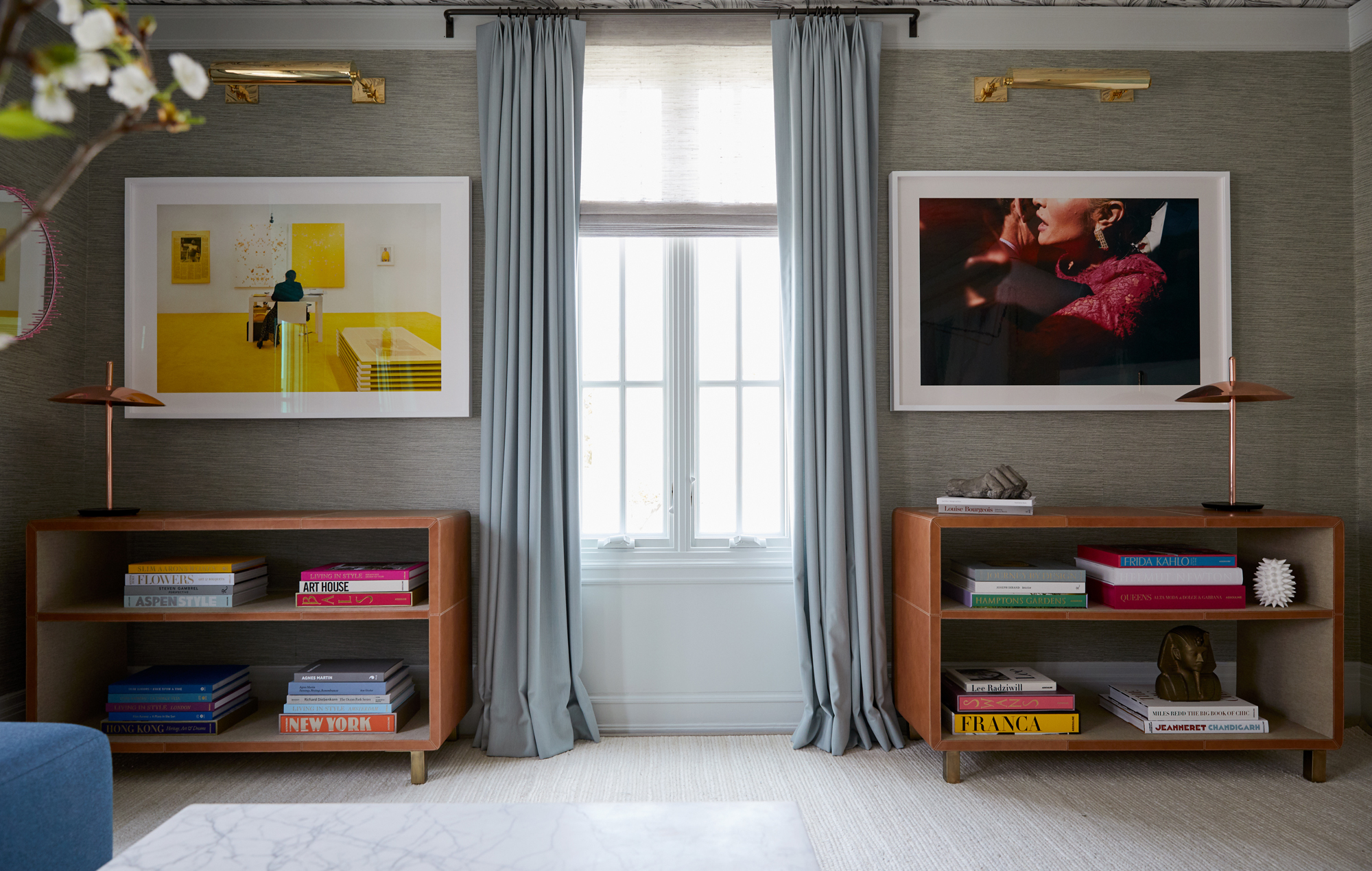 Tell us a bit about the art you chose to place in the room.
The art in the room was a combination of artists I know who I wanted to champion and artists with whom I have recently become acquainted.
Michael Gaillard - I met Michael in Nantucket and have placed several of his pieces in clients home. His works focus more on having his audience feel the atmosphere of what's depicted, rather than recreating a scene or location.
Landon Nordeman - A fashion photographer for many top commercial companies, his personal work such as the piece we chose for our room focuses more on behind the scenes, intimate portrayals of subjects.
Andy Freeberg - I love Andy's tongue in cheek commentary on the art fair world. The color is fantastic in this piece and it reminds us not to take ourselves too seriously.
Lisa Russell  - We found Lisa Russell through the Dolby Chadwick gallery. Her pieces have been displayed throughout the country, and  she has taught at various institutions as well.
Pierce Meehan - Pierce and I have worked together for several years and become great friends. We are so honored to show his work at Anyon. He is one of the kindest, most hardworking artists I know. His works involve a 17-step process and often feature recycled materials that he painstakingly turns into beautiful art.
Elyse Graham - I have been showing Elyse's work at Anyon Atelier for several years. She works primarily with resin, and her colors and textures are unparalleled. She is based in Los Angeles and constantly seeks news methods of exploring her medium.
Elisabeth Sunday - Having coveted her work for several years, I recently met Elisabeth Sunday in a very serendipitous way. The photograph 'Binta,' meaning daughter, of a Ghanian mother and child became part of my personal collection after I had my own daughter.  The artist spends time with the indigenous people she photographs and employs a self-developed method of "mirror photography" so as not to shoot her subjects directly. This accounts for the elongated body in this image and accentuates her subject's grace.
Okay – fun question: you were just given an empty lot in your favorite neighborhood in San Francisco to build a home. Without considering budget, what neighborhood do you choose and what architect will be hired to help you create your new home?
I am working on a home with Lewis Butler and Glenda Flaim of Butler Armsden in the Cow Hollow neighborhood. Working with them on my own dream home in the same area would be a dream. I love walking the Lyon Street stairs and the accessibility to Chrissy Field and the Presidio.
Lindsay Anyon Brier — Study
Kelly Hohla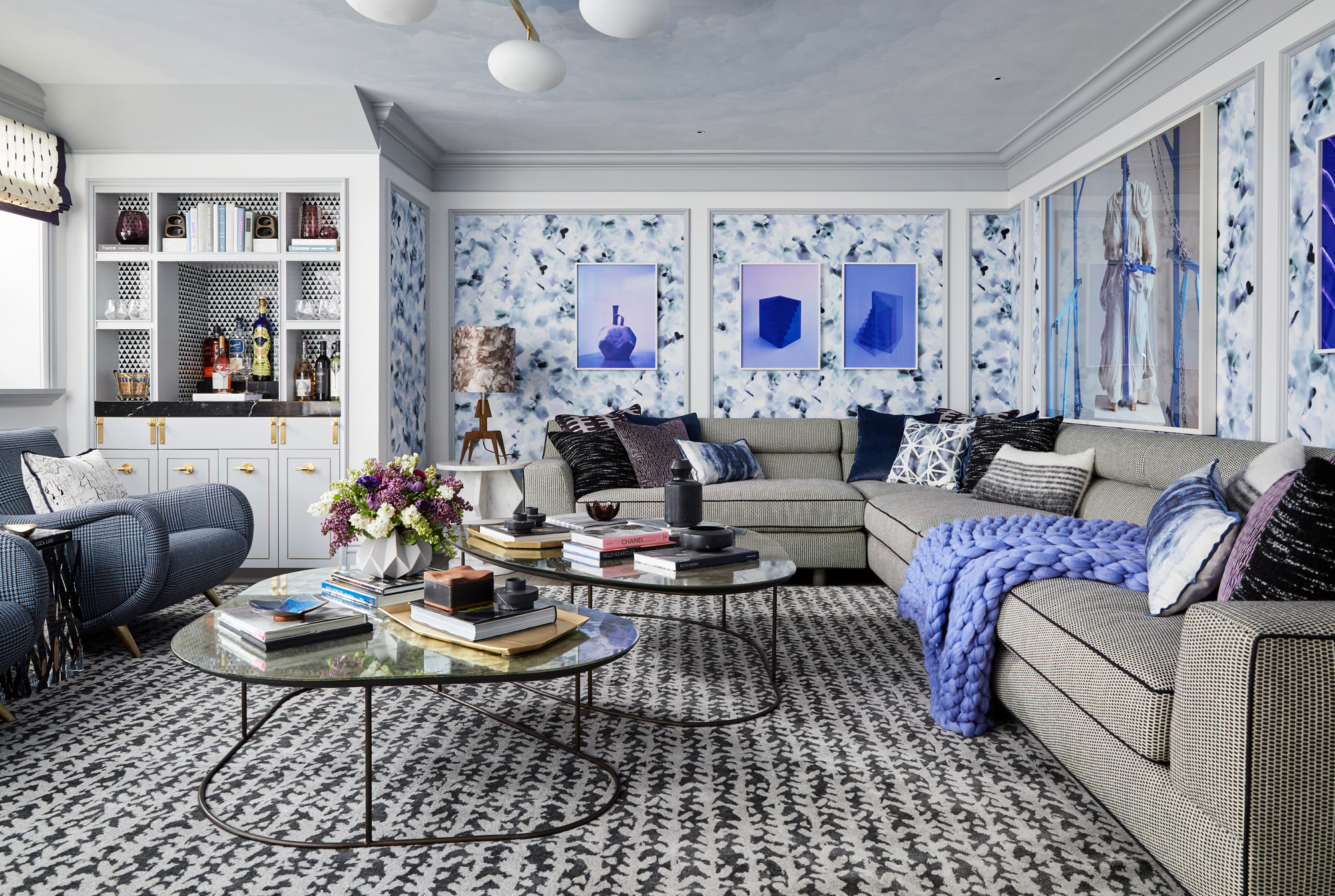 You had a challenging space to begin – both in terms of location, size of the room, and height of the ceilings. You created a "WO-man Cave" and ended up with a colorful, light space that feels spacious and very inviting. Tell us a bit about your process from seeing the space initially to ending up with this welcoming and happy environment.  
We loved the house this year, and wanted to be involved- but if we were taking on this room, we had the challenge of bringing this basement level forgotten room up to the level of the rest of the house.  For me, that is an architectural move first. I called my friend Benjamin McGriff, and amazing young architect who we love working with to see if he would be up for the challenge to collaborate and design a new trim package and turn a closet into a bar.  Second- I called on another friend and amazing lighting design firm Jody from Prichard Peck to help create the right mood in this dark space. On my end- I wanted to reverse the previous function and palate of the room, so we went light and bright with the wallpaper, paint, and ambient lighting.  Additionally, we wanted the space to feel cozy, casual and welcoming- not too precious. We kept the furniture low and loungy, the fabrics textural and tailored, and mixed in a little lux here and there.
We love the Porta Romana lamps – they have a similar vibe as the wallcovering and fabrics (we are so happy to NOT see another plain ivory shade....).  How and when do you use pattern to give a space more life?
Hands down, Porta Romana is our favorite lamp vendor to use.  For us- there is so much color and pop and personality to choose from in the lamps themselves, but add to that their ability to customize the shade materials!  Endless possibility. It's just another layer of detail, a choice besides white- every detail choice that we are able to make adds to the richness of the space.  The devil is in the details- after all!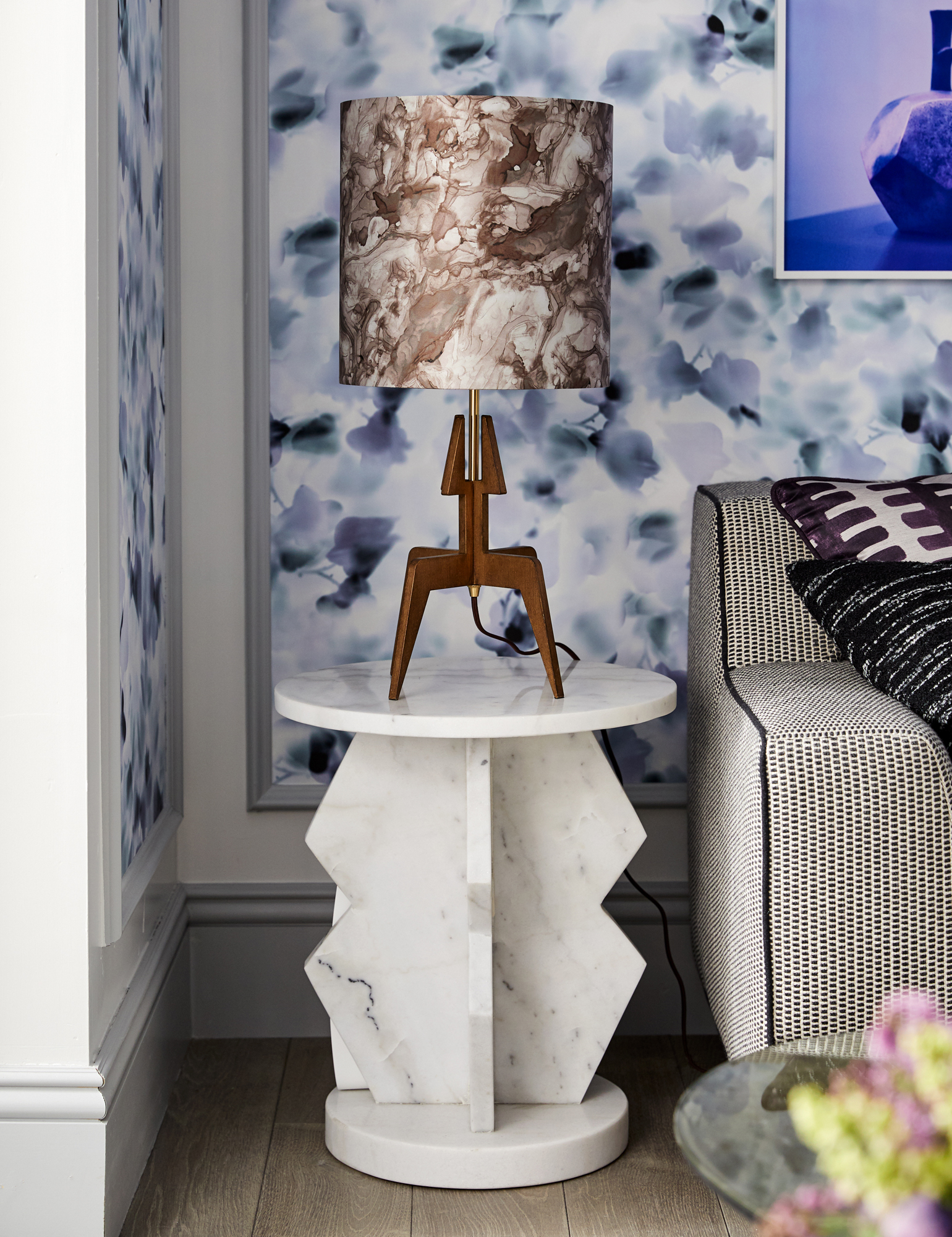 Here's a fun one for you: you are hosting a dinner party in your home and can choose any chef in the world to prepare the meal. Who do you choose and what will they prepare?
Alain Passard.  I had the most amazing meal of my life prepared by him.  He is a French chef, he cooked a 10-course vegetarian lunch (I was the only vegetarian- and everyone who attended instantly became a super-fan).  Anyhow- I would be happy with whatever he would cook- even a simple carrot he could make amazing.
Kelly Hohla — WO-man Cave